Faculty Profiles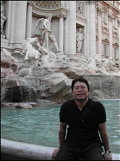 Tsuo-Hung Lan, M.D., Ph.D., C.P.I.
Joint-appointed Assistant Investigator
Institute of Population Health Sciences
tosafish@gmail.com
EDUCATION
- Ph.D., Genetic Epidemiology Program, Department of Epidemiology, School of Hygiene and Public Health, Johns Hopkins University, USA,2002
- B.M. (M.D. equivalent), School of Medicine, National Yang-Ming University, Taiwan,1992
PROFESSIONAL EXPERIENCES
RESEARCH INTERESTS
Dr. Lan has been involved in studies of genetic epidemiology in psychiatric disorders, especially in schizophrenia and bipolar affective disorder. A major current focus of his research is the long-term follow up of metabolic syndrome in antipsychotics exposed schizophrenia, and the gene-environmental interaction on smoking reduction among people with chronic schizophrenia. He also has been interested in pharmacogenomics, pharmacoepidemiology, pharmacoeconomics, and statistical model prediction on clinical outcome in people with mental illness.
RESEARCH ACTIVITIES & ACCOMPLISHMENTS
Dr. Lan has been engaged in clinical, genetic, and epidemiological research on mental illness for over a decade. In addition to original works in genetic statistics on schizophrenia and bipolar disorder, he also has made significant devotion in clinical trials and molecular biological data mining in psychiatry. He is actively involved in the establishment and maintenance on site IRB, General Clinical Research Center in recent several years. He has been certified by ACRP (Association of Clinical Research Professionals) as the Clinical Trial Investigator and Clinical Physician Investigator since the year 2005.
HONORS & AWARDS
- Travel Award of the Japan Society of Psychiatry and Neurology, 2007
- Travel Award of the Japan Society of Psychiatry and Neurology, 2006
- Fellowship of Clinical Trial Physician, Department of Health, Taiwan, 2006
- Awarded the Scholarship of the Ministry of Education, Taiwan, 1996
- Board certified in Clinical Physician Investigator (CPI), Academy of Pharmaceutical Physicians and Investigators (APPI), #ICH-I-0905-007
SELECTED PUBLICATIONS
1. Lan TH , Loh EW, Wu MS, Hu TM, Chou P, Chiu HJ (2008) Performance of a Neuro-Fuzzy Model in Predicting Weight Changes of Chronic Schizophrenic patients exposed to Antipsychotics. Mol Psychiatry (SCI) (accepted, advance online publication 8 January 2008; doi: 10.1038/sj.mp.4002128) (2006 IF: 11.804; Psychiatry Ranking: 2/95)

2. Huang HC, Chang YL, Lan TH, Chiu HJ, Liu WM, Lee T. (2007) Prediction of optimal lithium doses for psychiatric patients. J Clin Pharm Ther, (accepted) (SCI) (2006 IF: 0.966; Pharmacology Ranking: 158/199)

3. Lan TY, Lan TH, Wen CP, Lin YH, Chuang YL. (2007) Nighttime sleep, Chinese afternoon nap, and mortality in the elderly. Sleep 30(9): 1105-1110 (SCI) (2006 IF: 5.126; Psychiatry Ranking: 9/95)

4. Huang HC, Liu CH, Lan TH, Hu TM, Chiu HJ, Wu YC, Tseng YL (2007) Detection and quantification of aripiprazole and its metabolite, dehydroaripiprazole, by gas chromatography–mass spectrometry in blood samples of psychiatric patients. J Chromatogr B, 856(1-2):57-61 (SCI) (2006 IF: 2.647; Chemistry Analytical Ranking: 14/68).