Faculty Profiles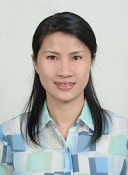 B. Linju Yen, M.D.
Associate Investigator and Attending Physician
Institute of Cellular and Systems Medicine
blyen@nhri.org.tw
EDUCATION
M.D., School of Medicine, University of California at San Francisco (UCSF), USA

B.A., Summa Cum Laude, Music History/Literature and Performance, School of Fine Arts, University of California at Los Angeles (UCLA), USA

PROFESSIONAL EXPERIENCES
Assistant Investigator and Attending Physician, Stem Cell Research Center (SCRC), National Health Research Institutes (NHRI), Taiwan (2005-present)

Visiting scientist, UCSF Embryonic Stem Cell Research Center

Human embryonic stem cell research trainee, ES Cell International Inc, Australia

Postdoctoral Fellow, SCRC, NHRI

Resident: PGY2 (Post-Graduate Year 2), PGY3 and Chief Resident, National Taiwan University Hospital, Department of Obstetrics and Gynecology (ObGyn), Taiwan

Resident: PGY1, Department of ObGyn, UCLA

RESEARCH INTERESTS
Dr. Yen is interested in the characterization of placenta-derived multipotent cells (PDMCs), a population of multipotent progenitor cells isolated and best characterized by her laboratory. In addition, she is interested in translational research of stem cells, using such stem cells including PDMCs, bone marrow mesenchymal stem cells, and embryonic stem cells. Her clinical research interests include postmenopausal women's health.
RESEARCH ACTIVITIES & ACCOMPLISHMENTS
The major focus of Dr. Yen's basic science research centers around finding alternative sources of human stem cells. Current sources of stem cells include embryonic stem cells (ESCs) and adult stem cells (ASCs). However, concerns exist with either source: ESCs, with its significant ethical considerations, tumorigenicity concerns, and paucity of cell lines; and ASCs, which are possibly more limited in potential. Dr. Yen's team has isolated a population of multipotent cells from the human term placenta, a temporary organ with fetal contributions that is discarded postpartum. Her laboratory is the first to isolate human placenta-derived multipotent cells (PDMCs) with multilineage differentiation capabilities of all three germ layers. Recent findings from her team have shown that these cells also possess strong immunosuppressive effects, properties which should be crucial for clinical use. Further characterization shows endothelial differentiation from PDMCs, which possess no endothelial progenitor cell markers. The ultimate goal of Dr. Yen's research is to use PDMCs – an ethically uncontroversial, easily accessible, and high-yield source of multipotent cells - in clinical applications.
HONORS & AWARDS
UCLA, Best Resident Award, Department of ObGyn

UCSF/Peking Union Medical College (China), Sub-intern Rotation Scholarship

UCSF/University of Heidelberg (Germany), Summer Graduate Student Research Scholarship

UCLA, Outstanding Graduating College Senior Award

UCLA, Chancellor's Service Award
SELECTED PUBLICATIONS
1.Wu CC, Chin WL, Chen CN, Chien S, Chen YC, Chien CC, Chiu JJ and Yen BL. Synergism of biochemical and mechanical stimulation in the endothelial differentiation of placenta-derived multipotent cells (PDMCs), a population of non-endothelial progenitor cells. J Biomech; in press, 2008.
2.Yen ML, Chien CC, Chiu IM, Huang HI, Chen YC, Hu HI and Yen BL. Multilineage differentiation and characterization of the human fetal osteoblastic 1.19 cell line: a possible in vitro model of human mesenchymal progenitors. Stem Cells, 25:125-31, 2007.
3.Chang CJ, Yen ML, Chen YC, Chien CC, Huang HI, Bai CH and Yen BL. PDMCs exhibit immunosuppressive properties which are enhanced in the presence of interferon-?. Stem Cells, 24:2466-77, 2006.
4.Chien CC, Yen BL, Lee FK, Lai TH, Chen YC, Chang SH and Huang HI. In vitro differentiation of human PDMCs into hepatocyte-like cells. Stem Cells. 24:1759-68, 2006.
5.Yen BL, Huang HI, Chien CC, Jui HY, Ko BS, Yao M, Shun CT, Lee MC and Chen YC. Isolation of multipotent cells from the human term placenta. Stem Cells, 23:3-9, 2005.
6.Yen ML, Yen BL, Bai CH and Lin RS. Risk factors for ovarian cancer in Taiwan: a casecontrol study in a low-incidence population. Gynecol Oncol, 89:318-24, 2003.
7.Tsai KS, Yen ML, Pan HA, Wu MH, Cheng WC, Hsu SH, Yen BL and Huang KE. Raloxifene versus continuous combined estrogen/progestin therapy: densitometric and biochemical effects in healthy postmenopausal Taiwanese women. Osteoporos Int, 12:1020-5, 2001.
8.Yen ML, Yen BL, Jang MH, Hsu SH, Cheng WC and Tsai KS. Effects of alendronate on osteopenic postmenopausal Chinese women. Bone, 27:681-5, 2000.