Faculty Profiles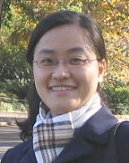 Chia-yu Chi, M.D.
Attending Physician
Division of Infectious Diseases
pedchi@nhri.org.tw
EDUCATION
M.D., Kaohsiung Medical University, Taiwan
B.Sc., Department of Biology, National Cheng Kung University, Taiwan

PROFESSIONAL EXPERIENCES
- Attending Physician, Division of Clinical Research, National Health Research Institutes, Taiwan (2005 - present)
- Fellowship of pediatric infectious disease, National Chen Kung University Hospital, Taiwan (2003 - 2005)
- Resident training of pediatrics, National Chen Kung University Hospital, Taiwan (2000 - 2003)
- Member, Infectious Disease Society of Taiwan (2004 - present )
- Member, Taiwan Pediatric Association (2003 - present)

RESEARCH INTERESTS
Dr. Chi has strong interest in infectious disease and focused her studies on viral encephalitis and virulence factors analysis in Staphylococcus aureus
. Now she is cooperating with Children Hospital No. 1 in Ho-Chi-Minh city for studying of enterovirus 71 pathogenesis and treatment of severe complications.
RESEARCH ACTIVITIES & ACCOMPLISHMENTS
Dr. Chi initiated her studies focusing on Staphylococcus aureus and had the first scientific publication about clinical and microbiological comparisons of Staphylococcus aureus toxic shock and scalded skin syndrome in children (Clinical Infectious Diseases, 42, 2006).
SELECTED PUBLICATIONS
1.Chi CY, Lauderdale TL, Wang SM, Wu JM, Yang YJ and Liu CC. Healthcare-associated Endocarditis Caused by Staphylococcus aureus with Reduced Susceptibility to Vancomycin. J Clin Microbiol, Dec 12, 2007 (in press)
2.Tseng FC, Huang HC, Chi CY, Lin TL, Liu CC, Jian JW, Hsu LC, Wu HS, Yang JY, Chang YW, Wang HC, Hsu YW, Su IJ, Wang JR and CDC-Taiwan Virology Reference Laboratories and Sentinel Physician Network. Epidemiological survey of enterovirus infections occurring in Taiwan between 2000 and 2005: analysis of sentinel physician surveillance data. J Med Virol, 79:1850-60, 2007.
3.Chi CY, Wang SM and Liu CC. Complications of varicella infection in children in southern Taiwan. J. Microbiol Immunol Infect, 39:402-7, 2006.
4.Huang MC, Wang SM, Hsu YW, Lin HC, Chi CY and Liu CC. Long-term Cognitive and Motor Deficits After Enterovirus 71 Brainstem Encephalitis in Children. Pediatrics, 118:1785-1788, 2006.
5.SM Wang, YJ Yang, JS Chen, HC Lin, CY Chi and CC Liu. Invasive fungal infections in pediatric patients with Leukemia: Emphasis on pulmonary and dermatological manifestations. Acta Pediatrics Taiwan, 46:149-155, 2005.