Faculty Profiles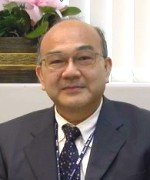 Ching-Yu Chen, M.D.
Investigator and Director
Division of Gerontology Research
chancy@nhri.org.tw
EDUCATION
M.D., College of Medicine, National Taiwan University, Taiwan 1973


PROFESSIONAL EXPERIENCES
Investigator and Director, Division of Gerontology Research, National Health Research Institutes, Taiwan (2006 – present)

President, Gerontology Society of Taiwan (2006 – present)

President, Taiwan Academy of Hospice Palliative Medicine (2005 – present)

President, Taiwan College of Family Physicians (2003 - 2006)

President, Taiwan Association of Family Medicine (1998 - 2000)

Chairman, Department of Family Medicine, NTUCM (1991 - 1995 & 1999 - 2005)

Director, Medical Informatics Section, NTUCM (1998 - 2002)

Superintendent, Provincial Taipei Hospital (1995 - 1997)

Professor, Department of Family Medicine, NTUCM (1995 - present)

Visiting Professor, Department of Medicinal Chemistry & Pharmacognosy, University of Rhode Island, USA (1992)

Director, Student Health Center, National Taiwan University (1981 - 1989)

Visiting Staff, Department of Family Medicine (1979 - present)

Resident & Chief Resident of Internal Medicine, NTUH (1975 - 1979)

RESEARCH INTERESTS
A veteran dedicating to the innovative development of family medicine, Dr. Chen has built up a wide spectrum of research interests through his active participation in a variety of collaboration projects. Papers supporting his promotion to lecturer, associate professor, and professor range respectively from researches on community medical treatment and healthcare, clinical studies of treatment and immunodiagnosis of clonorchiasis to animal model-based studies on ibuprofen pharmacokinetics and related clinical side effects. During his tenure as a full professor, Dr. Chen has his research efforts during the past decade centered on two major fields. One concentrates on the clinical aspects of hospice-palliative care, including symptom control, ethical issues and holistic care. The other evolves around nutrition and metabolic syndrome with a special focus on the role and function of proinflammatory cytokines and the pathophysiology of cachexia. The later in particular has played an increasingly important role in Dr. Chen's research endeavors since he assumed the directorship of the Division of Gerontology Research at National Health Research Institutes in April 2006.
RESEARCH ACTIVITIES & ACCOMPLISHMENTS
An expert much consulted by the Department of Health in the planning and implementation of primary healthcare policies, Dr. Chen has taken active parts in several projects significant to the establishment and development of the country's medical care system, ranging from the earlier experimental project on community-based Health and medical care, the pilot project for the establishment of group practice centers, establishment of the national medical care network, reconstruction of health and medical care systems after the 921 Earthquake, to the more recent establishment of community-based medical care system after the outbreak of SARS and the current project on the implementation of person-centered healthcare system. Dr. Chen currently chairs the special task force for promoting the quality of community-based medical care at Taiwan Joint Commission on Hospital Accreditation while also standing on the Review Committee for the DOH Medical Development Foundation. After 25 years of staunch dedication to the development and education of family medicine, Dr. Chen finds his proudest accomplishment in his participation into a series of projects leading to the introduction in 2003 by the Bureau of National Health Insurance of the Family Physician Integrated Care System that aims to provide residents island-wide with integrating services through community medical groups. Greatly encouraged by this accomplishment, Dr. Chen is now working with great vitality for his next goal: the implementation of a comprehensive geriatric care system and the ongoing promotion of eldercare quality in Taiwan. Dr. Chen has authored 10 medical books, published 200 papers, served as editor of two domestic medical journals, and represented Taiwan Association of Family Medicine in a great variety of international conferences.
SELECTED PUBLICATIONS
1.Leung KK, Liu WJ, Wang WD and Chen CY*. Factors Affecting Students' Evaluation in a Community Service-Learning Program. Advances in Health Sciences Education, 12(4):475-490, 2007.
2.Tsai PY, Yen CJ, Li YC, Chiu TY, Chen CY and Jan CF. Association between abnormal liver function and risk factors for metabolic syndrome among freshmen. J Adolesc Health, 41(2):132-137, 2007.
3.Yao CA, Hu WY, Lai YF, Cheng SY, Chen CY and Chiu TY*. Does Dying at Home Influence the Good Death of Terminal Cancer Patients? J Pain Symptom Manag., 34: 497-504, 2007.
4.Chen CS, Wang YC, Yang HC, Huang PH, Kulp SK, Yang CC, Lu YS, Matsuyama S, Chen CY and Chen CS*. Histone deacetylase inhibitors sensitize prostate cancer cells to agents that produce DNA double-strand breaks by targeting Ku70 acetylation. Cancer Res., 1;67(11):5318-5327, 2007.
5.Leung KK*, Chen CY, Lue BH and Hsu ST. Social support and family functioning on psychological symptoms in elderly Chinese. Arch Gerontol Geriatr., 44:203-213, 2007.
6.Chen YY, Chen CY and Leung KK*. Acute pancreatitis and amiodarone: a case report. World J Gastroenterol, 13(6): 975-977, 2007.
7.Tseng PH, Weng SC, Wang YC, Weng JR, Chen CS, Brueggemeier RW, Sharpiro CL, Chenb CY, Dunn SE, Pollak M and Chen CS*. Overcoming Trastuzumab Resistance in HER2-Overexpressing Breast Cancer Cells by Using a Novel Celecoxib-Derived PDK-1 Inhibitor. Mol Pharmacol., 70(5):1534-1541, 2006.
8.Huang JW, Shiau CW, Yang J, Wang DS, Chiu HC, Chen CY and Chen CS*. Development of small-molecule cyclin D1-ablative agents. J Med Chem., 49(15):4684-4689, 2006.
9.Tsai JS, Wu CH, ChiuTY, Hu WY and Chen CY*. Symptom patterns of advanced cancer patients in a palliative care unit. Palliat Med., 20:617-622, 2006.
10.Weng JR, Chen CY, Pinzone JJ, Ringel MD and Chen CS*. Beyond peroxisome proliferator-activated receptor ? signaling: the multi-facets of the antitumor effect of thiazolidinediones. J endocrinol., 13(2):401-413, 2006.
11.Leung KK, Chiu TY and Chen CY*. The influence of awareness of terminal condition on spiritual well-being in terminal cancer patients. J Pain Symptom Manag., 31(5):449-456, 2006.
12.Kulp SK, Chen CS, Wang DS, Chen CY and Chen CS*. Antitumor Effects of a Novel Phenylbutyrate-Based Histone Deacetylase Inhibitor, (S)-HDAC-42, in Prostate Cancer. Clin Cancer Res., 1;12(17):5199-5206, 2006.
13.Liu WJ, Hu WY, Chiu YF, Chiu TY*, Lue BH and Chen CY. Susumn Wakai. Factors that influence physicians in providing palliative care in rural communities in Taiwan. Support Care Cancer, 13:781-789, 2005.
14.Shen YH, Yang WS, Lee TH and Lee LT. Bright Liver and Alanine Aminotransferase are Associated with Metabolic Syndrome in Adults. Obesity Research, 13(7): 1238-1245, 2005.
15.Tsai JS, Wu CH, Chiu TY, Hu WY and Chen CY. Fear of death and good death among the young and elderly with terminal cancers in Taiwan. J Pain Symptom Manag, 29(4):344-51, 2005.
16.Liu CY, Chen CY and Cheng TA. Mental illness in a general hospital's family medicine clinic in Taiwan. Psychiatry and Clinical Neurosciences, 58: 544-550, 2004.
17.Cheng SY, Shaw NS, Tsai KS and Chen CY. The hypoglycemic effects of soy isoflavones in postmenopausal women. Journal of Women's Health, 13(10):1080-6, 2004.
18.Hu WY, Chiu TY*, Cheng SY and Chen CY. Morphine for dyspnea control in terminal cancer patients: Is it appropriate in Taiwan? J Pain Symptom Manag., 28(4):356-363, 2004.
19.Chiu TY*, Hu WY, Lue BH, Yao CA and Chen CY. Dyspnea and its correlated factors in Taiwanese patients with terminal cancer. J Pain Symptom Manag, 28(2):123-132, 2004.
20.Chiu TY*, Hu WY, Chuang RB, Cheng YR and Chen CY. Terminal cancer patients' wishes and the influencing factors toward the artificial provision of nutrition and hydration in Taiwan. J Pain Symptom Manag., 27(3):206-214, 2004.
21.Chuang RB, Hu WY, Chiu TY* and Chen CY. Prediction of survival in terminal cancer patients in Taiwan: constructing a prognostic scale. J Pain Symptom Manag, 28(2):285-292, 2004.
22.Hu WY, Chiu TY, Cheng YR, Chuang RB and Chen CY. Why Taiwanese hospice patients want to stay in the hospital: health care professional beliefs and solutions. Support Care Cancer, 12(5):285-292, 2004.
23.Hu WY*, Chiu TY, Dai YT, Chang M, Jaing TH and Chen CY. Nurses' willingness and predictors of the willingness to provide palliative care in rural community of Taiwan. J Pain Symptom Manag.,26(2):760-768, 2003.