Faculty Profiles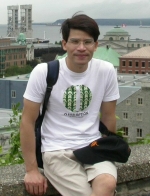 Cheng-Chin Kuo, Ph.D.
Assistant Investigator
Cardiovascular and Blood Research Center
kuocc@nhri.org.tw
EDUCATION
Ph.D., National Defense Medical Center, Taiwan, 2001
M.S., National Defense Medical Center, Taiwan, 1997
B.S., Fu Jen Catholic University,, Taiwan, 1995

PROFESSIONAL EXPERIENCES
Assistant Investigator, National Health Research Institutes, Taiwan (2007 – present)
Postdoctoral Fellow, Agricultural Biotechnology Research Center, Academia Sinica (2006~2007)
Postdoctoral Fellow, Institute of BioAgricultural Sciences, Academia Sinica (2001 ~ 2006)
RESEARCH INTERESTS
Understanding of the TLR signaling pathway will shed light on how the immune response is activated and will be important for the development of specific therapies that can efficiently fight against immune-related diseases, such as infectious diseases, autoimmunity disease, atherosclerosis and cancer. Dr. Kuo is to understand the innate immune response triggered by TLR ligands and the transition from innate to adaptive immunity.
Ongoing research projects are I) How TLR regulate immune response. II) Functional control of Treg cells by TLR signaling. III) Establishing biological structure of TLR.

RESEARCH ACTIVITIES & ACCOMPLISHMENTS
Dr. Kuo used microarray and proteomic approaches to identify several genes/proteins involved in TLR9 signaling–mediated immune cell survival. He using genetic and molecular cellular approach demonstrated that TLR9 ligand CpG ODN activate PI3K signaling to increase expression of two anti-apoptotic proteins, Hsp70 and 90. Furthermore, both Hsps regulate anti-apoptosis via different mechanism of action, respectively. In addition, He also found that class I and class III PI3K play distinct roles in TLR signaling pathways using specific kinase mutants and PI3K lipid products.
SELECTED PUBLICATIONS
1.G. Nagarajan*, Kuo CC*, Chen CM, and Liang SM. 2007. CpG ODN up-regulates spondin 1 and several heat shock proteins and spondin 1 through TLR9 signaling pathway in swine PBMC. Veterinary Research 38:795-808. (*=Corresponding Author)
2.Kuo CC, Liang CM, Lai CY and Liang SM. 2007. Involvement of Hsp90