Faculty Profiles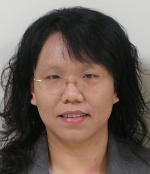 Fan-Chen Tseng, MsPH, Ph.D.
Assistant Investigator
Division of Infectious Diseases
950119@nhri.org.tw
EDUCATION
Ph.D., University of North Carolina at Chapel Hill, Chapel Hill, North Carolina

M.S.P.H., University of North Carolina at Chapel Hill, Chapel Hill, North Carolina

B.S., Taipei Medical College, Taipei, Taiwan

PROFESSIONAL EXPERIENCES
Senior Postdoctoral Fellow, Division of Clinical Research, National Health Research Institutes, Tainan, Taiwan (2006-present)

Visiting Fellow, Division of Cancer Epidemiology and Genetics, National Cancer Institute, National Institutes of Health, Bethesda, Maryland, USA (2002-2005)

RESEARCH INTERESTS
Dr. Tseng's primary research focuses on epidemiology and clinical studies of various infectious agents that can establish chronic infections, including hepatitis B virus (HBV), hepatitis C virus (HCV), human immunodeficiency virus (HIV) and Helicobacter pylori. Her interests are to study risk factors, disease progression and natural history of these infections by combining the analyses of laboratory data, such as molecular markers, and epidemiological data, such as demographics and questionnaires. Another aspect of research is on the epidemiology of pathogens that are prevalent in Taiwan, such as Enteroviruses (EV) and Noroviruses.
RESEARCH ACTIVITIES & ACCOMPLISHMENTS
Dr. Tseng collaborates with a few HIV clinics in southern Taiwan to study the epidemiology of HIV-1 infections, and specific projects include "Epidemiology of co-infections with HBV and HCV among HIV patients" and "Surveillance of resistance to anti-retroviral drugs among HIV-1 patients". She also assists some P.Is in Division of Clinical Research, such as Dr. Dou's project on Mycobacterium tuberculosis and Dr. Lo's project on Candida spp. She has finished a few manuscripts, including "Epidemiological Survey of Enterovirus Infections Occurring in Taiwan Between 2000 and 2005: Analysis of Sentinel Physician Surveillance Data" and "Investigation of the Transmissibility and Infectivity of Oral Poliovirus Sabin Strains in Sentinel Physician-based Laboratory Surveillance in Taiwan, 2000-2005".
HONORS & AWARDS
"Paper of Distinction" in the "Digestive Disease Week", American Association for the Study of Liver Diseases, 2005.
SELECTED PUBLICATIONS
1.Parks CG, Moe CL, Rhodes D, Lima A, Barrett L, Tseng F, Baric R, Talal A and Guerrant R. Genomic diversity of "Norwalk like viruses" (NLVs): pediatric infections in a Brazilian shantytown. J Med Virol, 58:426-34, 1999.
2.Baric RS, Yount B, Lindesmith L, Harrington PR, Greene SR, Tseng FC, Davis N, Johnston RE, Klapper DG and Moe CL. Expression and self-assembly of norwalk virus capsid protein from venezuelan equine encephalitis virus replicons. J Virol, 76:3023-30, 2002.
3.Tseng FC, Brown EE, Maiese EM, Yeager M, Welch R, Gold BD, Owens M, Cranston B, Hanchard B, El-Omar E and Hisada M. Polymorphisms in cytokine genes and risk of Helicobacter pylori infection among Jamaican children. Helicobacter, 11:425-30, 2006.
4.Tseng FC, Leon JS, MacCormack JN, Maillard JM and Moe CL. Molecular epidemiology of norovirus gastroenteritis outbreaks in North Carolina, United States: 1995-2000. J Med Virol, 79:84-91, 2007.
5.Tseng FC, O'Brien TR, Zhang M, Kral A, Ortiz-Conde BA, Busch MP and Edlin BR. Seroprevalence of HCV and HBV among San Francisco Bay Area Injection Drug Users, 1998-2000. Hepatology, 46(3):666-71, 2007.
6.Tseng FC, Huang HC, Chi CY, Lin TL, Liu CC, Jian JW, Hsu LC, Wu HS, Yang JY, Chang YW, Wang HC, Hsu YW, Su IJ and Wang JR for CDC-Taiwan Virology Reference Laboratories and Sentinel Physician Network. Epidemiological Survey of Enterovirus Infections Occurring in Taiwan Between 2000 and 2005: Analysis of Sentinel Physician Surveillance Data. J Med Virol, 79(12):1850-60, 2007.
7.Su IJ, Tseng FC, Wu HS, Liu DP and Kuo HS. Successful Control of Institutional Outbreaks of Influenza 2003/2004 Using Anti-virals Tamiflu in Taiwan: Can this Experience Be Applied to H5N1 Control? In press in Proceedings for Options VI for the Control of Influenza, 2007