Faculty Profiles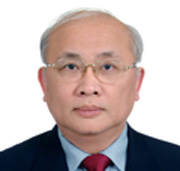 Yao-Chang Chen, M.D., Ph.D.
Joint-appointed Investigator
Institute of Cellular and Systems Medicine
ycchenmd@ntu.edu.tw
EDUCATION
Hematology Fellowship, Rush-Presbyterian, St. Luke's Medical Center, Rush Medical College, Chicago, Illinois, USA, 1981

M.D., National Taiwan University, College of Medicine, Taiwan, 1973

PROFESSIONAL EXPERIENCES
Director, Stem Cell Research Center, National Health Research Institutes (2002-2004)

Visiting scholar, Department of Medical History & Ethics, University of Washington, Seattle, U.S.A. (2001)

President, Asian pacific Bone Marrow Transplantation Group (1996-1998)

Visiting Consultant, Blood Transfusion Hematology Center, Ho Chi Minh City, Vietnam (1992-1995)

Professor, Division of Hematology-Oncology, College of Medicine, National Taiwan University (1990-present)

Visiting Consultant, King Fahrad Hospital, Jeddah, Kingdom of Saudi Arabia (1990)

Visiting Associate Professor, The 3rd Department of Internal Medicine, University of Tokyo, Japan (1989)

Director, Bone Marrow Transplantation Unit, National Taiwan University Hospital (1983-2002)

Attending Physician, Department of Laboratory and Internal Medicine, National Taiwan University Hospital (1981-present)
RESEARCH INTERESTS
From 2002, his research interests expanded to adult stem cell, regenerative medicine, and use of nanoparticles in the tracking of stem cells.
RESEARCH ACTIVITIES & ACCOMPLISHMENTS
Professor Chen accomplished 1st auto-BMT (1983), 1st allo-BMT (1984), 1st cryopreserved-marrow transplantation (1986), 1st PB stem cell transplantation in the treatment of solid tumor (1992) in Taiwan. He advocated the first Taiwan marrow donor campaign in 1993 and also helped to establish the 1st BMT center and accomplished 3 BMT cases in Vietnam in 1995. His team in laboratory recently isolated stem cells from placenta and developed stem cell tracing with using nanoparticles. Professor Chen have published more than 100 papers in hematology field, many of them are on important international hematology and oncology journals.
HONORS & AWARDS
1.Research Career Award, Chinese (ROC) Society of Cancer, 2000
2.Marquis' "Who's Who in The World", 1999
3.Takeda Award , Taiwan Medical Association, 1989
4.Green Apricot Medical Award , National Taiwan University Medical School, 1993
5.Have been invited as guest speaker in International hematology or oncology Meeting for 20+ times, majorly on the topic of stem cell transplantation
SELECTED PUBLICATIONS
1.Chung TH, Wu SH, Yao M, Lu CW, Lin YS, Hung Y, Mou CY, Chen YC and Huang DM. The effect of surface charge on the uptake and biological function of mesoporous silica nanoparticles in 3T3-L1 cells and human mesenchymal stem cells. Biomaterials, 28:2959-2966, 2007.
2.Lu CW, Hung Y, Hsiao JK, Yao M, Chung TH, Lin YS, Wu SH, Hsu SC, Liu HM, Mou CY, Yang CS, Huang DM and Chen YC. Bifunctional Magnetic Silica Nanoparticles for Highly Efficient Human Stem Cell Labeling. Nano Letters, 7:149-154, 2007.
3.Chang CJ, Yen ML, Chen YC, Chien CC, Huang HI, Bai CH and Yen BL. Placenta-Derived Multipotent Cells Exhibit Immunosuppressive Properties That Are Enhanced in the Presence of Interferon-Y. Stem Cells, 24:2466-2477, 2006.
4.Huang DM, Hung Y, Ko BS, Hsu SC, Chen WH, Chien CL, Tsai CP, Kuo CT, Kang JC, Yang CS, Mou CY and Chen YC. Highly efficient cellular labeling of mesoporous nanaprticles in human mesenchymal stem cells: implaction for stem cell tracking. The FASEB Journal, 19:2014-2016, 2006.
5.Yen BL, Huang HI, Chien CC, Jui HY, Ko BS, Yao M, Shun CT, Yen ML, Lee MC and Chen YC. Isolation of Multipotent Cells from Human Term Placenta. Stem Cells, 23:3-9, 2005.
6.Lin YS, Tsai CP, Huang HY, Kuo CT, Hung Y, Huang DM, Yao-Chang Chen YC and Mou CY. Well-ordered Mesoporous Silica Manoparticles as Cell Markers. Chmemical Materials, 17:4570-4573, 2005.
7.Chen YC, Lin KH, Huang WS and Tang JL. Bone marrow transplant in Taiwan: an overview. Bone Marrow Transplantation, 13:705-708, 1994.
8.Chen YC, Chen PJ, Yeh SH, Tien HF, Wang CH, Tang JL and Hong RL. Deletion of the human retino-blastoma gene in primary leukemias. Blood, 76:2060-2064, 1990.
9.Chen YC, Wang CH, Hu CY, Su IJ, Chou NJ, Lee TH, Chung TY, Liu CH and Yang CS. Infection of human T-cell leukemia virus type I and development of human T-cell leukemia/lymphoma in patients with hematological heoplasms-a possible linkage to blood transfusion. Blood, 74:388-394, 1989.