Faculty Profiles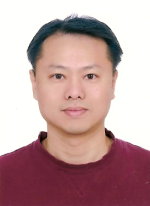 Joe Yen-Hung Chow, Ph.D.
Assistant Investigator
Vaccine Research and Development Center
choeyenh@nhri.org.tw
EDUCATION
Ph.D., Institutes of Life Science, National Defense Medical Center, Taiwan, 1997

M.S., Department of Pharmacology, National Chen Kung University, Taiwan, 1992

B.S., Department of Pharmacy, Kaohsiung Medical University, Taiwan, 1990
PROFESSIONAL EXPERIENCES
Assistant Investigator, Vaccine Research and Development Center, National Health Research Institutes, Taiwan (2006-present)

Assistant Professor, Department of Infectious Disease, University of Georgia, USA (2004-2006)

Research Associate, Department of Infectious Disease, University of Georgia, USA (2002-2004)

Postdoctoral Fellow, Laboratory of Experimental and Computational Biology, National Cancer Institute, National Institutes of Health, USA (2001-2002)

Post-doctoral Fellow, Department of Oral Biology and Medicine, School of Dentistry, University of California, Los Angeles, USA (2000)
RESEARCH INTERESTS
Dr. Chow's expertise is in the field of, Molecular Virology, Vaccine Development, Tumor Biology and Signal Transduction. Currently his research is focused on the following topics:
1. Development of viral-based therapeutic vaccine in inducible/endogenous lung adenocarcinoma mice model. Study of mechanisms of tumiorigenesis including the cellular signaling and pathogenesis in vivo.
2. Development of recombinant mucosal vaccines against the Respiratory Syncytial Virus for elderly. Adenovirus type 5 as a delivery system to introduce RSV antigens in recipient is Dr. Chow's strategy in RSV vaccine development. Study of Th1/Th2 immunity which induced by RSV infection will be key work in this project.
RESEARCH ACTIVITIES & ACCOMPLISHMENTS
Dr. Chow has authored 15 original research articles and is an active member of the American Association of Cancer Research (AACR), and the American Association of Immunologists (AAI).
HONORS & AWARDS
He got several scientific awards in the past few years such as:
1. Presentation and travel award of 2003 Human retrovirus Conference. Keystone, Colorado, April 5-11. Conserved structures exposed in HIV-1 envelope glycoproteins stabilized by flexible linkers as potent entry inhibitors and immunogens (2003)
2. Oral presentation and travel award of 2001 AIDS Vaccine Conference, Philadelphia, September 5-8. Fusion proteins of gp120 and gp41 jointed by flexible linkers as exceptionally potent inhibitors of HIV-1 entry and candidate vaccines (2001).
SELECTED PUBLICATIONS
1.Chang HW, Chow YH, Chong P, Sia C. The Cross-Regulatory Relationship between Human Dendritic and Regulatory T Cells and its Role in Type 1 Diabetes Mellitus. Rev Diabet Stud. 4: 68-76, 2007.

2.Varela M#, Chow YH#, Sturkie C, Palmarini M. Activation of receptor tyrosine kinase/RON in retroviral Env-mediated transformation. Virology. 2006. [#=Equal credit of authorship]

3.Xiao X, Phogat S, Shu Y, Phogat A, Chow YH, Wei OL, Goldstein H, Broder CC, Dimitrov DS. Purified Complexes of HIV-1 Envelope Glycoproteins with CD4 and CCR5(CXCR4): Production, Characterization and Immunogenicity. Vaccines. 21(27-30):4275-84, 2004.

4.Zavala G, Pretto C, Chow YH, Alberti A, Jones L, Heras MDL, Palmarini M. Relevance of Akt phosphorylation in cell transformation induced by Jaagsiekte sheep retrovirus. Virology. 312(1):95-105, 2003.

5.Chow YH, Wei OL, Phogat S, Sidorov IA, Fouts TR, Broder CC, Dimitrov DS.Conserved structures exposed in HIV-1 envelope glycoproteins stabilized by flexible linkers as potent entry inhibitors and potential immunogens. Biochemistry. 41(22):7176-82, 2002.

6.Biragyn A, Belyakov IM, Chow YH, Dimitrov DS, Berzofsky JA, Kwak LW. DNA vaccines encoding human immunodeficiency virus-1 glycoprotein 120 fusions with proinflammatory chemoattractants induce systemic and mucosal immune responses. Blood. 100(4):1153-9, 2002.

7.Chow YH, Yu D, Zhang JY, Xie Y, Wei OL, Chiu C, Foroohar M, Yang OO, Park NH, Chen IS, Pang S.gp120-Independent infection of CD4(-) epithelial cells and CD4(+) T-cells by HIV-1. Journal of Acquired Immune Deficient Syndrome. 30(1):1-8, 2002.