Faculty Profiles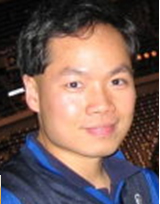 Jason C. Huang, Ph. D.
Adjunct Assistant Investigator
Vaccine Research and Development Center
jchuang2@ym.edu.tw
EDUCATION
Ph.D., Experimental Pathology, University of Texas Medical Branch at Galveston, USA, 2000

B.S., Medical Technology, National Yang-Ming University, Taiwan, 1991
PROFESSIONAL EXPERIENCES
Assistant Professor, Graduate Institute of Biotechnology in Medicine, National Yang-Ming University (2004-present)

Postdoctoral Fellow, Center for Immunology, University of Texas Southwestern Medical Center (2001-2004)
RESEARCH INTERESTS
Dr. Huang's main research interests are the development of MHC class II tetramer platform for vaccine evaluation and studies of disease mechanisms. His laboratory is also involved in the studies of pathogenesis of nasopharyngeal carcinoma and influenza immune response.
RESEARCH ACTIVITIES & ACCOMPLISHMENTS
Dr. Huang is in the process of developing of MHC class II tetramer platform based on common Taiwanese HLA-DR alleles. The DR tetramer will be used for EBV and influenza studies and vaccine evaluation.
HONORS & AWARDS
Research Award, National Yang-Ming University, Taiwan, 2007
SELECTED PUBLICATIONS
Huang JC, Ober RJ, and Ward ES.. The central residues of a T cell receptor sequence motif are key determinants of autoantigen recognition in murine experimental autoimmune encephalomyelitis. European journal of immunology, 35(1): 299-304, 2005

Sahu GK, McNearney T, Evans A, Turner A, Weaver S, Huang JC, Baron S, Paar D, Cloyd MW. Transient or occult HIV infections may occur more frequently than progressive infections: changing the paradigm about HIV persistence. ARCHIVES OF VIROLOGY, 19:131-145, 2005

Huang JC, Vestberg M, Minguela A, Holmdahl R, Ward ES. "Analysis of autoreactive T cells associated with murine collagen-induced arthritis using peptide-MHC multimers." International Immunology, 16(2): 283-293, 2004

Huang JC, Han M, Minguela A, Pastor S, Qadri A, Ward ES. "T cell recognition of distinct peptide:I-Au conformers in murine experimental autoimmune encephalomyelitis." JOURNAL OF IMMUNOLOGY 171(5): 2467-2477, 2003

Chen JJ, Huang JC, Shirtliff M, Briscoe E, Ali S, Cesani F, Paar D, Cloyd MW. "CD4 lymphocytes in the blood of HIV (+) individuals migrate rapidly to lymph nodes and bone marrow: support for homing theory of CD4 cell depletion". Journal of Leukocyte Biology, 72(2): 271-278, 2002