Faculty Profiles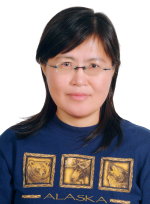 Hsing-Yi Chang, Dr.P.H.
Associate Investigator
Institute of Population Health Sciences
hsingyi@nhri.org.tw
EDUCATION
Dr.P.H., Biostatistics, University of North Carolina, USA
MPH, Biostatistics, University of North Carolina, USA
B. S., Forestry, National Chunhsing University, Taiwan

PROFESSIONAL EXPERIENCES
- Associate Investigator, Center for Health Policy Research and Development, National Health Research Institutes, Taiwan (2005-present)
- Assistant Investigator, Division of Health Policy Research, National Health Research Institutes, Taiwan (2000-2005)
- Postdoctoral Research Fellow of Institute of Biomedical Sciences, Academia, Sinica, Taipei, Taiwan (1997- 2000)
- Postdoctoral Research Fellow of Institute of Public Health, Kaosiung Medical College, Taiwan (1996-1997)

RESEARCH INTERESTS
Dr. Chang's research interests include methodology for health related surveys and nutrition epidemiology . She has involved in a few large surveys in Taiwan, including National Health Interview Survey and Nutrition and Health Survey in Taiwan. Her focus is in the cardiovascular diseases, especially the related dietary patterns, risk behaviors, medical costs. In addition to individual factors, she also explores the effects of economic, social and political environment on the disease.
RESEARCH ACTIVITIES & ACCOMPLISHMENTS
Dr. Chang has coordinated two waves of the National Health Interview Survey. The coordination an international conference to share experiences of conducting and analyzing data from the health interview surveys.

Dr. Chang has developed method to estimate the distribution of nutrient intakes of the population. She also developed method to compare results based on different sampling schemes. These achievements can be found in her publications in Statistics in Medicine, American Journal of Clinical Nutrition, and other journals.

SELECTED PUBLICATIONS
1. Chang H-Y, Hu Y-W, Yue C-S J, Wen Y-W, Yeh W-T, Hsu L-S, Tsai S-Y, Pan W-H. Effect of Potassium-Enriched Salt on Cardiovascular Mortality and Medical Expenses of Elderly Men, AJCN, 83: 1289-1296, 2006.
2. Chen HY, Chang HY*, Shih SF, Hsu CC, Lin YH, Shih YT. The Regional Differences in Prevalence, Medical Expenditures and Risk Factors for Injury in Taiwanese Teenagers. BMC Public Health. 6:107, 2006.
3. Chang H-Y, Chiou C-J, Lin M-C, Lin-H-H, and Tai T-Y. A Population Study of the Self-care Behaviors and their Associated Factors of Diabetes in Taiwan: Results From the 2001 National Health Interview Survey in Taiwan. Prev. Med. 40:344-8, 2004.
4. Pan W-H, Flegal KM, Chang H-Y, Yeh W-T, Yeh C-J, Lee W-C, Tsai K-S. BMI and obesity-related metabolic disorders, comparison between Taiwanese and US whites and blacks: implications for definitions of overweight and obesity for Asians. AJCN, 79(1):31-9, 2004.
5. Chiou, C-J and Chang H-Y*. Do the elderly benefit from Annual Physical Examination? An Example from Kaohsiung City, Taiwan. Preventive Medicine 35: 264-270, 2002.
6. Chang H-Y, Suchindran C.M. and Pan W-H, Using the Overdispersed Exponential Family to Estimate the Distribution of Usual Daily Intakes of People Aged Between 18 and 28 in Taiwan. Statistics in Medicine 20(15): 2337-2350, 2001.